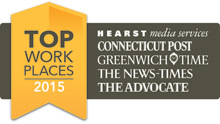 Basement Systems Founder and CEO Larry Janesky said he was grateful for the award and glad that his company, which operates in an "under the radar" industry, was recognized.
"We have a dynamic workplace with a feeling of moving forward" Janesky said. "Leaders are friendly and available and involved with what is happening on the front lines."
This is the third time that Basement Systems' employees have placed the company in the top 10 workplaces: Connecticut Basement Systems received the recognition in 2006 and then again in 2012.
There are several things that set Basement Systems apart from other employers – some of which are apparent from the moment you walk in the door. The office spaces at the Seymour campus' main building are anything but conventional. The Internet Marketing Department operates out of a "treehouse," the International Call Center out of a space that's decorated to look like a late 19th century mining town, and the video team from a room designed to look like a space station.
"If you ask anyone who works here, they'll tell you they love it. It's a different approach to a workplace," said Tom Matthews, National Marketing Director. "Larry makes us think differently and created a workspace that motivates it."
Larry's appreciation for his growing number of employees is obvious in the design of his most recent unique workspace: "Forge & Anvil." The space is Larry's tribute to the American worker. The main feature is a 32-foot sculpture modeled after the iconic "Lunch atop a Skyscraper" photograph. The design also includes a larger-than-life mural of service technicians installing Basement Systems products.
Top Workplaces is nomination-based and relies on survey responses from employees about leadership, company values, and overall job satisfaction.
Basement Systems, Inc., specializes in "All Things Basementy." The company is the world leader in developing and providing products that result in dry, below-grade space. Basement Systems develops solutions and delivers them through a trusted network of trained, reliable dealers.